Public Libraries

Masters
All Others
---
Families
Masters
Smith
Bowers
Hull
Beaty
---
Links
General
Genealogy
Jack's Bio
Roots Surname
---
Other sites
Cumberland Pioneer Settlers
Weatherred Diary
---
Home
---
E-Mail
Site Map
---

---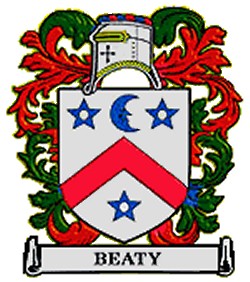 John Beaty Sr. was born ca 1725 in Ireland and came to Pennsylvania about 1750. He married first, Margaret Montgomery. Their family consisted of 8 children including James and Andrew. After Margaret's death John migrated south to Rowan County, North Carolina. Apparently the older sons migrated also. Andrew was living in Sullivan County when the Revolutionary War started.
John Beaty's second wife in unknown but we do know that they had at least three sons including George Beaty. All three sons I have mentioned settled along the East fork of the Obey river at Boatland, Fentress County, Tennessee and are developed in our work.
James Beaty - Born 10 Feb 1753 in Chester, Co., PA, Died after 1835 in Rutherford Co., TN. He married Mary Catherine Smith. They had one son:

3rd Generation
Isaac Beaty, Born 1803 in Cumberland Co., KY, Died Fentress Co., TN. He married Susannah Gwin and they had eleven children.

Andrew Beaty - Born 1758 in Pennsylvania, Died 19 Jul 1836. He married Elizabeth Cooper. Andrew lived in what is now Sullivan Co, TN during the Revolutionary War, but later migrated to Cumberland Co., KY. He and Elizabeth had seven children including:

Alexander Beaty - Born 1798 in Cumberland Co., KY, Died 1881 in Fentress Co., TN. He married Mary "Polly" Hull and they had nine children.
William Thomas Beaty - Born 1800 in Kentucky, Died 1878 in Little Crab, TN. He married Jane Mullinex and they had eleven children.

George Beaty - Born 1785 in North Carolina, Burial in Lacy Cem., Boatland, Fentress Co., TN. He married Lydia Ann Wilson. They had eight children including:

J. Fleming Beaty - Born 1812 in Boatland, Fentress Co., TN, Died 1882. He married Sarah Cobb and they had nine children.
David "Tinker Dave" Beaty - Born 19 Feb 1817 in Boatland, Fentress Co. TN, Died 22 Aug 1876. He married Avey Collier and they had seven children.
---
Surname Index
Beaty Family History
---
Additional Surname Resources
Roots Surname List RSL offers registered Beaty researchers listings showing the earliest and latest dates of their Beaty family data, origination of family, migration route and last, the E-Mail address of the submitter of the Beaty family data. RSL is now located on the RootsWeb Genealogical Data Cooperative server and includes a growing list of searchable databases which will likely be of interest to the researcher. These folks do a great job!
Excellent tools for serious family researchers are listed below:

The Beatty Notebook Genealogy archives and related information on several variant spellings as well as The Beatty Project 2000.

Beaty Family Sites on the Internet (If anyone can add anything let me know and I'll post to this list).
E-Mail
Copyright © 1995 - 2023 by Jack Masters. All rights reserved. These pages may be freely linked to but not duplicated in any manner without the written consent of Jack Masters. Use of any content must be referenced and is protected under Title 17, U. S. Code governing Copyrighted Materials.