Public Libraries

Masters
All Others
---
Families
Masters
Smith
Bowers
Hull
Beaty
---
Links
General
Genealogy
Jack's Bio
Roots Surname
---
Other sites
Cumberland Pioneer Settlers
Weatherred Diary
---
Home
---
E-Mail
Site Map
---

---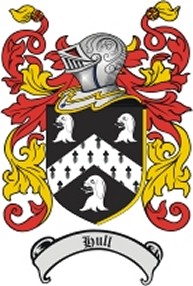 The Rev. Joseph Hull was born in 1596 in Crewkerne, Somersetshire, England. He was educated at St. Mary's Hall, Oxford, receiving his B. A. Degree.
On 6 May 1635 he arrived at Boston, MA along with 104 others who would later be referred to as "Hulls Colony". Joseph Hull married twice and had a total of twenty-one children.
The second generation in America was Joseph's son Samuel Hull, Born ca 1649 in Piscataway, Middlesex Co., NJ, Died ca 1706. He married Mary Manning on 16 Nov 1677 and they had six children. They lived in both Maine and New Jersey along with settlers who's background must have been similar.
The Hull family is then traced from New Jersey into Anson County, North Carolina and Moses Hull, who was the fifth generation in the New World. Moses was Born ca 1729 in New Jersey and Died ca 1778 in North Carolina. His wife remains unknown. Records and Moses' will reveal at least four surviving children:
William Jackson Hull - Born ca 1750 in New Jersey, Died Jan 1778 in Leonardtown, MD. He married Sarah. They had three sons:

7th Generation
Isaac Hull - Born ca 1771
Jesse Hull - Born 11 Sep 1773 in New Jersey, Died 1863. He married, first, Rebecca Staley in 1796. He was a resident of Overton Co., TN in 1814. To this union was born eleven children. He married, second, Jane Ashenhurst in 1835. They appear in the 1850 census of Overton Co., TN.
Thomas Hull - Born 7 Nov 1777 in North Carolina, Died ca 1871. He married Winifred Evans 17 Dec 1801.

Moses Hull - Born ca 1751 in New Jersey. He married Sally and they lived in Rowan Co., NC and Wilkes Co., NC before receiving a grant of 200 acres in 1807 on Spring creek, Cumberland Co., KY. This land and 1900 pounds were paid in 1782 in or on behalf of the American Revolution. We know there were other children but at least two were:

Josephus Hull - Born ca 1772 in North Carolina. He married Elizabeth Brown. They lived in an area of Tennessee that fell into the new county of Fentress and probably died there. They had six children.
Moses Hull - Born ca 1774 in North Carolina. He married Elizabeth Crockett and they had eleven children.

Joseph Hull - Born ca 1757 in New Jersey, Died 1832 in Richmond Co., NC. He married Sarah Miller.
Daniel Hull - Born ca 1758 in New Jersey, Died 1836 in Jefferson Co., NC. He married Mary Busby Dec 1788 in Wilkes Co., NC.
---
Surname Index
Hull Family History
---
Additional Surname Resources
Roots Surname List RSL offers registered Hull researchers listings showing the earliest and latest dates of their Hull family data, origination of family, migration route and last, the E-Mail address of the submitter of the Hull family data. RSL is now located on the RootsWeb Genealogical Data Cooperative server and includes a growing list of searchable databases which will likely be of interest to the researcher. These folks do a great job!
Hull Family Sites on the Internet (If anyone can add anything let me know and I'll post to this list).
Copyright © 1995 - 2023 by Jack Masters. All rights reserved. These pages may be freely linked to but not duplicated in any manner without the written consent of Jack Masters. Use of any content must be referenced and is protected under Title 17, U. S. Code governing Copyrighted Materials.