Public Libraries

Masters
All Others
---
Families
Masters
Smith
Bowers
Hull
Beaty
---
Genforum
Masters
Smith
Bowers
Hull
Beattie
---
Links
General
Genealogy
Civil War
Jack's Bio
Roots Surname
---
Other sites
Jack's Civil War Relics
Weatherred Diary
---
Home
Masters Family Home
---
E-Mail
---
Robert S. Masters

by Exie Masters Belk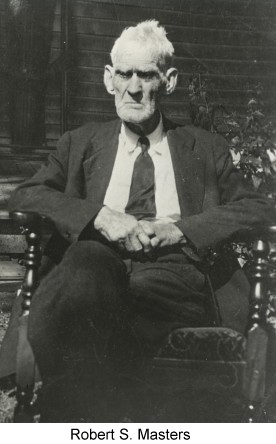 I have very fond memories of my grandfather, Robert S. Masters who was the youngest son of John S. and Judith Barbara Riley Masters of the Flat creek community, Overton County, TN. He was born in the old Masters homestead on January 1, 1851, died December 1940 at his farm home 1 1/2 miles west of Camp Ground Church where he was a faithful member for many years.
Grandpa had 50 grandchildren, and we older ones were never happier than when we sat around him listening to his "stories" we called them. They were diversified ... he'd talk about his boyhood days, then swing into "Indian stories" that old Charlie O'Neal had related to him, sometimes it would be ghost stories that almost made the hair on our heads stand on end. Grandpa was one of the most religious men that I have ever known, and taught us more about the Bible than we ever learned in Sunday School.
Grandpa lived on a farm all his life, but he loved best to be in his work shop, winter or summer. He walked every where he went, I don't believe I ever saw him on a horse or mule. Maybe his dislike of them came from this story I heard him tell many times. His father John S. ground all the corn he used in the distillery on a mill between two large grinding stones, powered by an oxen or mule. Grandpa's job was, even at five years old, to sit on the beast with a hickory switch and keep him moving. Grandpa would become dizzy, or fall asleep and fall off. John S. would pick him up, pat him on the bottom and set him back on. Grandpa said many times he wished he'd never see a mule or oxen again.
Another story about the oxen always amused us. Oxen were used for most of the farm work and one Sunday morning John S. decided he wanted some corn gathered from the field to grind. He ordered three of the boys, which ones I have forgotten, to gear the oxen up and do it. They had other plans for the day and put up an argument, but John S. demanded they obey. It seems oxen were stubborn and when they did not want to move they took what grandpa called "the studs". When the wagon or sled was half full of corn this is what they did and refused to move. Now they had what they called "shuck boys" in those days. Their job was to set fire to a dry husk of corn and put it under the oxen's tail and he would move pronto...On this day uncle Isaac was shuck boy and being angry because he had to work, picked up a dry bundle of fodder and set it on fire. That did it...the oxen took off thru the field, down the road toward home. When they came to Flat Creek the wagon hit a bolder and over turned spilling the corn in the creek, the oxen broke loose and went on to the barn. The boys went to their favorite swimming hole, took a bath, went home and dressed and left for the day. John did not scold them, but a few weeks later he got rid of the stubborn oxen.
There were two large springs on the Masters farm and John S. had a distillery at each one, it was legal, he paid $2.00 a year tax to operate them. One of the springs is on the farm that Thomas D. got. John S. would start up a run, I believe they called it, and while that was working he'd go to the other spring and start up a run. This doubled his production, he was a shrewd business man and a caution one, he demanded cash on the barrel head or no whiskey. One day a friend, my younger brother thinks it was John Riley a first cousin of Granny Barbara, decided to play a trick on John S.. He showed up at one of the stills one day with three jugs in a grass bag, two were empty, one was filled with water. He gave John S. the two empty jugs and told him to fill them up, this done, the friend put them in his bag. He then took out his purse and said to John S., "John I don't have enough money to pay for two jugs, so I'll just take one" he reached in the bag and brought out the jug filled with water and handed it to John S. who proceeded to pour it back into the barrel, naturally this ruined the barrel of whiskey.
According to grandpa, John S. was very strict and hard on all his children, that's why the older ones were so anxious to leave home. He also distrusted banks and had all his money converted into gold and silver coin. This he kept buried and never once did he tell Barbara or anyone where. Grandpa remembered on this cold December day that John S. counted his gold and placed in in a wooden box he had made from mahogany with brass hinges and lock. When it got dark he dragged the box out the front door and placed the box in a wheelbarrow. As he did so, grandpa remembered a gold coin falling out and rolling under the bed. He and granny Barbara set up before the fire until John came back without the box. He was wet and muddy, for it was drizzling rain. He took pneumonia, had a stroke and died on Christmas day. He tried hard to tell Barbara something before he died but could not make her understand. Grandpa was 15 years old.
John's death created a hardship for Granny B. with the income gone, and all the savings buried. Thomas D. married in 1867 and according to the 1870 census Melinda hired out as domestic help. This left she and grandpa alone to run the farm. My great grandfather, John J. Carmack was a tenant farmer in the log house in the corner of Flat Creek and Jackson branch. They moved in when grandma was 11 years old. The pasture where they kept their cows was across the creek and grandpa Carmack cut a tall tree down and it fell across the creek for grandma to walk across on to do the milking. I've heard Dad tell this dozens of times, and have crossed the creek many times myself on this log. Dad said when he sold the farm in 1960-62 the log was still in good condition.
Grandpa and grandma were married Nov. 2, 1872, and five of their children were born in the old Masters homestead. Granny B. lived with them. After her death in 1885, and the land divided according to John's will, grandpa and grandma moved into the log house in the corner of Flat Creek and Jackson branch. They later moved into a 3 room & hallway further up on Jackson branch whether this house was there or grandpa built it, I do not know. Their last three children were born here. I also was born in this house.
I would like to mention here, that the spot where the log cabin stood in the corner of Flat Creek and Jackson branch was once a camp for Cherokee Indians. My Dad remembered as a child picking up Indian arrows of all shapes and sizes when the soil was being cultivated. We children did the same thing. I remember walking behind Dad's plow and picking up bags full. We called this corner the "sandy bottom" for the soil is rich sandy loam. Dad grew special crops here, such as cane, broom corn, cantaloupes and potatoes.
Following the creek banks up from this bottom was the old Masters boys swimming hole where they swam and bathed. Further up was a good fishing spot for catfish, also there was a cane brake where we cut our fishing poles. Dad always kept a supply curing on the barn rafters. When I was a child, mud turtles were teeming in the creek banks and fried turtle was often on our menu, as were catfish and frog legs. Looking back I have no doubt that our ancestors ate sumptuously.
Granny Barbara according to grandpa was a faithful worker in the Mt. Gilead church, I don't remember any thing being said about John S. attending church. The first Mt. Gilead church was a small log structure on the site where Hillery is buried near Flat Creek. A few other people were buried there including a Mrs. Eva Coffman about the year 1863. She probably was the last to be buried there. After this small building burned, Mr. Tom Davis a land and slave owner wanted to give land for a new church, Isaac Gore Masters also wanted to give land. Mr. Davis won the argument, but when he picked the site and the line run, it was found to be on Isaac's land. He gave Isaac an equal amount of his land that joined Isaac's land. Mr. Davis built the new log church with slave labor. This building was also used as a school house. My Dad and his brothers and sisters attended school here, the floor was dirt and a rough fireplace was used for heat.
Great great grandmother Mary Davies Masters lived with John S. and granny Barbara. Grandpa remembered granny and his older brother and sisters saying that Mary was spiteful and hard to get along with, and that Hillery was a small man, gentle natured and easy to get along with. Mary made her children promise her that they would not bury her beside Hillery. She wanted to be buried in the farm plot. After she died they tried to exhume his body and place him beside her but he was so decayed they decided to let him rest where he was.
---
[ Robert S. Masters Family Lines | Back To Masters Topics | Back To Masters Family | Home ]
---