Public Libraries

Masters
All Others
---
Families
Masters
Smith
Bowers
Hull
Beaty
---
Genforum
Masters
Smith
Bowers
Hull
Beattie
---
Links
General
Genealogy
Civil War
Jack's Bio
Roots Surname
---
Other sites
Jack's Civil War Relics
Weatherred Diary
---
Home
Masters Family Home
---
E-Mail
---
Study of the land ownership of early Masters Family in what is now Washington DC and Prince George's County Maryland

A Work in Progress

From "ABSTRACTS OF LAND DOCUMENTED IN THE HALL OF RECORDS, ANNAPOLIS, MD Prince George's Liber I, fol. 87-9 (12 Dec. 1720): fr. Charles and Mary Beale, for 2000 lb. good tobacco; Discovery; beginning on north side of fresh called Oxon at first bounded tree of None such; equalling 383 acres fee simple; surveyed 5 Sept 1714 for Charles Beale, part of warrant granted Charles Beale 23 April 1714.

Our William "W" Masters lived at Discovery most of his married life with his wife Mary and children. He died after 1771 and was buried there along with his wife.

A study of Land Owners When Prince George's County Was Formed by Mrs. Louise Joyner Hienton, will form the base for this project.

Of particular interest is the Map she prepared which identifies the area of Oxen fresh (stream/run) and the tract of land identified as Nonesuch.

Scaling the Southeastern quadrant of Mrs. Hienton's map and transposing to a current map of Washington DC indicates at least a portion of Discovery lies along Southern Avenue (the boundry separating Washington DC & Prince George's County MD) between State Hwy 218 and State Hwy 5 at 36TH PI SE. The following street map shows that location along with the exact area satellite image. The building located on the NE corner of Southern Ave and Oxen Run Place is the Church of Jesus Christ of LDS located at 3601 Southern Ave. On the satellite image below, Oxen run can be seen in the wooded area to the SW of that church as marked.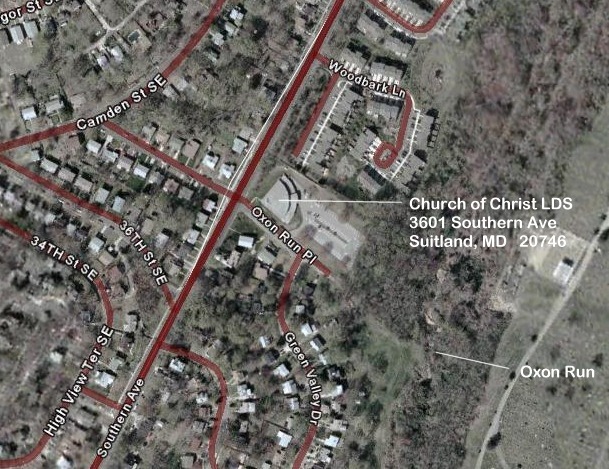 Feedback anyone???
Jack Masters
September 8, 2005