Public Libraries

Masters
All Others
---
Families
Masters
Smith
Bowers
Hull
Beaty
---
Genforum
Masters
Smith
Bowers
Hull
Beattie
---
Links
General
Genealogy
Civil War
Jack's Bio
Roots Surname
---
Other sites
Jack's Civil War Relics
Weatherred Diary
---
Home
Masters Family Home
---
E-Mail
---
Edgar Lee Masters
Great Great Grandson of Hillery Masters
by Charles E. Burgess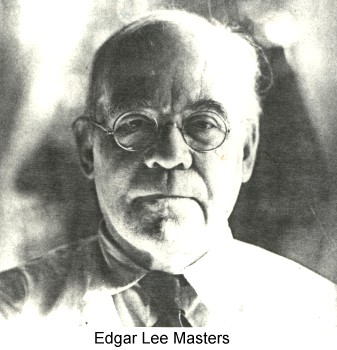 This compilation of generations of Masters families is an appropriate setting for acknowledging the career of one controversial member who made the name internationally famous in literature. Edgar Lee Masters (1868-1950) was strongly influenced by ancestral lore in his epic Spoon River Anthology (1915) and in many other writings -- more than 50 books, in all. The sweep of the nation's history and migrations permeated his books and articles although most of them were focused in the Central Illinois country where he grew to manhood. At its best, his poetry and prose communicate universal emotions and observations typical of many locales in many time periods.

Spoon River, still in print, was a sensation -- a book of poetry that sold like a popular novel. In brief free-verse monologues called epitaphs, supposedly spoken from their graves, its characters summarized their lives in (and occasionally beyond) an Illinois village. Many spoke of positive and noble existences, particularly those drawn from Masters' pioneer ancestral lore. However, the book's notoriety certainly came chiefly because it incisively touched about every vice, sin, crime and meanness that can develop in human relationships. The book was assailed from many quarters, championed ardently from others. Many critics believe Spoon River was a benchmark in the emergence of modern poetry characterized by vigorous style and willingness to confront the range of human behavior and conditions as subject matter. It influenced many American and international writers, and drew new audiences in recent years in Broadway, television and operatic adaptations. Masters had no success like it again.

Another of his books that received much attention and critical fire was an iconoclastic biography, Lincoln: The Man (1931). As for the rest, the best would include Mitch Miller (1920), the first of a series of autobiographical novels; The New Spoon River (1924), in the style of the earlier success; Vachel Lindsay: A Poet in America (1935), a sensitive and sympathetic biography of a fellow Illinois poet; Across Spoon River (1936), an unsparing autobiography: and The Sangamon (1942), a retrospective of the region of his youth for the Rivers of America series.

Masters' forebears on his mother's side were from New England. He virtually ignored them as literary material. He drew often, with literary license even in autobiographical non-fiction (as serious genealogists of the family have discovered), on the paternal ancestry that had passed through Maryland, the Carolinas, Virginia and Tennessee. His grandparents, Squire Masters was born August 23, 1868, in Garnett, KS, during an unsuccessful attempt by his father to establish a law practice. The return to Illinois placed the son in profoundly influential village and rural settings in Menard and Fulton counties. Masters' early adult career was as a Chicago attorney and proponent of progressive causes. He was for several years a partner of noted defense attorney Clarence Darrow.

Masters wrote voluminously before 1915 -- political essays, poetry and plays which drew little notice. After Spoon River, he gradually abandoned law for full - time writing, and produced prolifically until late 1943 when he became ill at his long-time residence at the Chelsea Hotel, New York. He died in a Philadelphia suburb nursing home March 5, 1950.

Masters married twice. Two children have achieved respected literary careers: a daughter, Marcia, in poetry, and son, Hilary, as a novelist. Both Hilary and his older half-brother, Hardin (1899-1979) have written memoirs of their father. He is a constant and haunting figure in Marcia Masters' poems.
---
[ To Edgar Lee Masters Family Lines | Back To Masters Topics | Back To Masters Family | Home ]
---