Public Libraries

Masters
All Others
---
Families
Masters
Smith
Bowers
Hull
Beaty
---
Genforum
Masters
Smith
Bowers
Hull
Beattie
---
Links
General
Genealogy
Civil War
Jack's Bio
Roots Surname
---
Other sites
Jack's Civil War Relics
Weatherred Diary
---
Home
Masters Family Home
---
E-Mail
---
The Masters Fork - A Family Tradition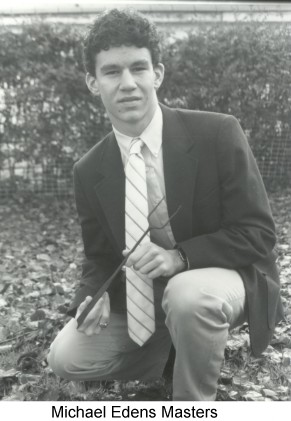 The following is a copy of the story of the Masters Fork orally given by Robert Simon Masters in Overton County, Tennessee to Mrs. Joe Masters on March 20, 1937. This was found in a letter from Earl Wayne Masters to Genell Masters Wynn dated 29 September 1970. Mrs. Wynn is a descendant of Hillery Masters and lives in Madison, Davidson Co., TN.


      "Notley Masters brought this fork from Wales when he was 12 years old 
      about 1740.
      
      Notley and his sister were put off on an island near Wales (4 miles 
      off shore) on account of bad treatment of step-mother.  The father 
      provided food once a week.  A ship came along on the way to America.  
      They persuaded Notley to come with them as a waiter.  He begged his 
      sister to come but she would not leave the island so he left and came 
      to America.
      
      Notley married in the colonies.  He heard of his future wife coming 
      from Wales to America under the same circumstances.  He went to see 
      her and they married and raised children.  His boy, Hilary Masters 
      was a Grandfather of R. S. (Robert Simon) who related this story.
      
      Hilary Masters, the youngest child of Notley went through the 
      Revolutionary war.
      
      This fork has been passed down to the youngest son in the Masters 
      family from Notley to his youngest son Hilary, Grandfather of R. S. 
      Masters, then to John Masters, youngest son of Hilary and father of 
      R. S. Masters.  John Masters was born on March 12, 1801 and died 
      December 25, 1866.  The fork was then passed to R. S. Masters, 
      youngest son of John.  Then from R. S. Masters to Joseph Lurley 
      Masters, given to Joe March 20, 1937, with the understanding that 
      the youngest sons of the coming generations receive the fork."
      
      
      Dear Mrs. Wynn
      
      The above is all we have with the fork.  I thought that more of the
      relationships would be given,  Joseph Lurley Masters was my father.
      I am the youngest son so I will pass the fork on to my youngest son.  
      R. S. Masters was my grandfather.  He died when I was very young --
      perhaps before I was born -- I don't remember.
      
      I am afraid this will not help you as much as I thought.  I do not 
      know very much about the family history, but will be glad to help
      in any way I can.
                                                      E. Wayne Masters


E. Wayne Masters died in 1977 leaving no sons. The fork passed by his next younger brother Ralph Waldon Masters, who also had no sons, then to Lurley Doyle Masters. Lurley Doyle died three years later passing the fork to his youngest son Michael Edens Masters, its current holder. Michael is now 17 years old ( in 1989) and lives with his family in Memphis, Tennessee.

Rev. L. Doyle Masters and his brother Dr. E. Wayne Masters were prominent United Methodist Church ministers in Tennessee.
---
[ Top | Back To Masters Topics | Back To Masters Family | Home ]
---