Public Libraries

Masters
All Others
---
Families
Masters
Smith
Bowers
Hull
Beaty
---
Genforum
Masters
Smith
Bowers
Hull
Beattie
---
Links
General
Genealogy
Civil War
Jack's Bio
Roots Surname
---
Other sites
Jack's Civil War Relics
Weatherred Diary
---
Home
Masters Family Home
---
E-Mail
---
Three Picture Collection

by Margaret Masters Buehrig

Among items passed on by my grandfather, Isaac B. Masters, son of John S. Masters, are three photographs each dating from the time of the Civil War. Each Picture is enclosed in a traditional carved, hinged case. These are about 2 1/2 by 3 1/2 inches in size. Two cases are made of wood, the other appears to be a pressed material simulating ebony. The interior of each case has the usual velvet lining in the left half with the photo in the right. Each picture is framed by a very narrow, fragile, decorative edging of gold-colored metal placed around the glass which covers the picture.

Undoubtedly these pictures were taken by one of my grandfather's older brothers, John H. Masters, the Civil War photographer. John H. Masters came North to Illinois after the war and unwittingly traded his camera for a stolen horse. He was acquitted of theft but shortly thereafter he disappeared and no one has ever known his eventual fate.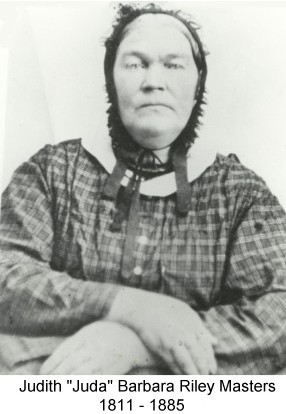 The picture of Judith Barbara Riley Masters is an ambrotype -- a picture made on glass. It is an older method than the tintype. Barbara's cheeks and hands have been lightly tinted by the photographer. In 1975 when the picture was removed from its frame, we were fascinated to find a message from John H. Masters: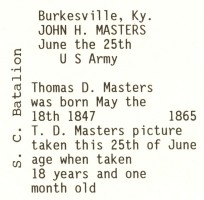 Quiet obviously a picture of Thomas -- a brother of John H. -- had originally been in the case and was now replaced by one of Judith Barbara Masters. The inscription suggests that John H. Masters may have come north before the war and fought with that side. The notation on Thomas is correct. Military records exist showing that Thomas as well as his brother, Isaac, enlisted on Dec. 21, 1862 in Hamilton's Company of Independent Volunteers, Shaw's Cavalry Battalion.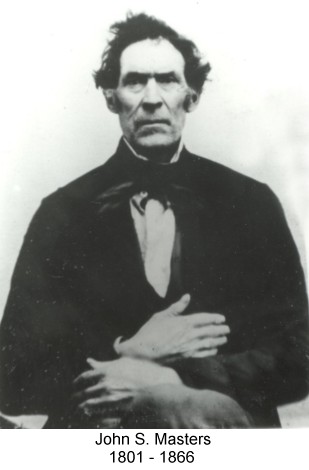 The original of the picture above is tintype, contained in a carved case, size about 2 1/2 by 3 1/2 in. I would feel certain that John H. Masters would have taken this picture.

I don't know how my grandfather came by the three encased pictures that he had -- Barbara, John S. and the Wedding picture. Did they send them to him? Did he acquire them when he made a visit in 1877 or did John H. give them to him when he came north. The picture is a tintype.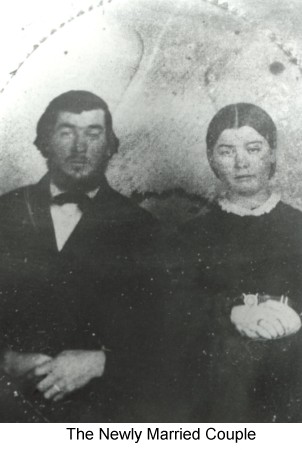 That these are newlyweds in almost certain due to the prominently displayed wedding rings which, in the original photo, are brightly gilded. The picture is a tintype. It is not known who the couple is but since the photo belonged to Isaac Masters, son of John S., it is possibly one of his brothers or sisters. The feeling is strengthened by the fact that two locks of hair were found behind the picture -- one red, the other a very light brown. Barbara Riley Masters is said to have had red hair. There are numerous heads of red hair in Illinois unto the fifth generation and I have seen it among relatives in Livingston, Tennessee and in Nebraska and Indiana.

Since the switchover from ambrotype to tintype started in the mid 1850's the most likely identification might perhaps be either James B. and Matilda Masters or Thomas D. and Mary Ethel Masters. Another possibility is George and Elizabeth Maxwell who are not listed in this work. Anyway, the fact of the matter is we don't know nor perhaps will never know the true identity of the couple.
---
[ Top | Back To Masters Topics | Back To Masters Family | Home ]
---